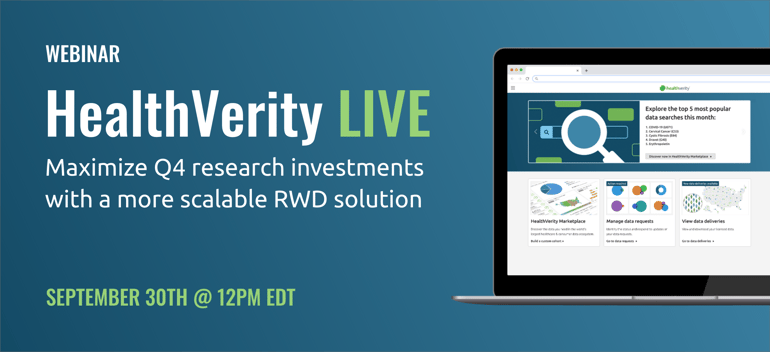 Maximize Q4 research investments with a more scalable RWD solution
Fourth quarter is a critical time for making investments in real-world data (RWD) that will maximize your 2021-2022 research efforts. The continuing proliferation of RWD, however, forces organizations to silo data due to a lack of patient/policyholder interoperability or delay research efforts due to lengthy and challenging HIPAA governance requirements. Enter the HealthVerity IPGE platform, the industry's most prolific way to accurately integrate endless data sources, including your own proprietary data, into a unified, patient longitudinal, HIPAA-compliant data resource to power your best-in-class analytics initiatives.

With HealthVerity, clients have access to the nation's largest RWD ecosystem, including dozens of healthcare and consumer data providers, made completely interoperable and HIPAA-compliant on day one with the industry's most accurate patient identity resolution solution and leading data governance workflows.

Explore the modern way to data TM with us on Thursday, September 30th at 12:00 PM EDT, as we take you through the HealthVerity RWD ecosystem and highlight ways that HealthVerity will optimize your analytics strategies by:

Enabling organization and enterprise-wide data access through flexible subscription-based models
Powering integration of proprietary patient data, including clinical trial efforts, to deliver comprehensive and real-time patient journeys
Delivering HIPAA-compliant solutions on day one, eliminating endless governance delays

Providing open access to clients and your analytics partners
Bring your use cases for this discussion. We'll leave 15 minutes at the end for Q&A and live problem-solving with our experts.
Sign up today!